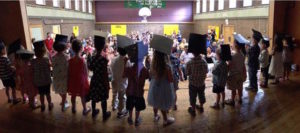 Newmarket Co-operative Nursery School is for children from 2.5 years to 5 years of age, who are encouraged to grow and learn through play and creativity, in a loving, nurturing, caring environment.
Our school is designed like a home, to feel like home.
We believe a play-based, child-initiated environment sparks a natural desire to learn and positively develops the physical, social, emotional and cognitive needs of pre-kindergarten children.
What is a Co-operative Nursery School?
We're a non-profit organization, owned and operated by our members, i.e. parents. Co-op families form the backbone of the school, offering opportunities for involvement in establishing policy, fundraising and helping to participate in the day-care and pre-school programs.
443 Park Avenue, Newmarket, Ontario L3Y 1V9
Phone: (905)895-9341
Email: tracyj@rogers.com